Manage your candidate workflow and predict job performance, all from your ATS, with Vervoe's JobAdder integration!
The JobAdder integration is available to all Vervoe customers on a package plan, and can be accessed via the "Integrations" page within account settings. The integration is standard to all users and therefore can be toggled on immediately in the Vervoe account. Please note, authentication is required on the JobAdder side and can take up to 24 hrs.
Flow
Enable the Integration
Toggle the JobAdder option on from the "integrations" page within your Vervoe account.

Once toggled on, you'll need to complete authentication using your JobAdder ID

After the account is Authorized they need to select the custom field in JobAdder where they want the Vervoe result to be displayed. This is done from the Score Custom Field dropdown.

Score Custom Field will display all available custom fields in JobAdder that Vervoe can display the result in. For clarity we recommend that you contact JobAdder support (support@jobadder.com) and ask them to create a new custom field called "Vervoe Score". Alternatively, you can work with you dedicated Customer Success Manager to get help with the request.
Send assessments to JobAdder
From your account, customers can send an active assessment to JobAdder (from the three-dot menu on a small active assessment card)

A message will appear to confirm the assessment has been sent

Assessments can also be removed (or withdrawn) from Jobadder from this menu
Inviting candidates to assessment via JobAdder
To start using the selected Vervoe assessments in Jobadder, you'll need to create a Job Application in your JobAdder account

Next, you'll need to add a candidate to the Job Application

Then you'll need to Invite the candidate to the assessment

This is done by clicking the "Actions" menu in the top right-hand corner then selecting "Vervoe" and then the assessment

Only assessments that are active in Vervoe can be used

The candidate will then be sent an Invitation email from Vervoe
Viewing Vervoe Score in JobAdder
Upon candidate completion, Vervoe sends the results and a link for the candidate integration card to Jobadder where you can quickly access it.

Which results are sent?

Only the overall score (without skill group breakout)

Results are only sent one time and will not update after manual grading

Score update will be sent as a note

If the candidate is rejected in Vervoe, the "rejected candidate" status is sent to JobAdder

You can sort a candidate's Vervoe Score by using the tool shown below: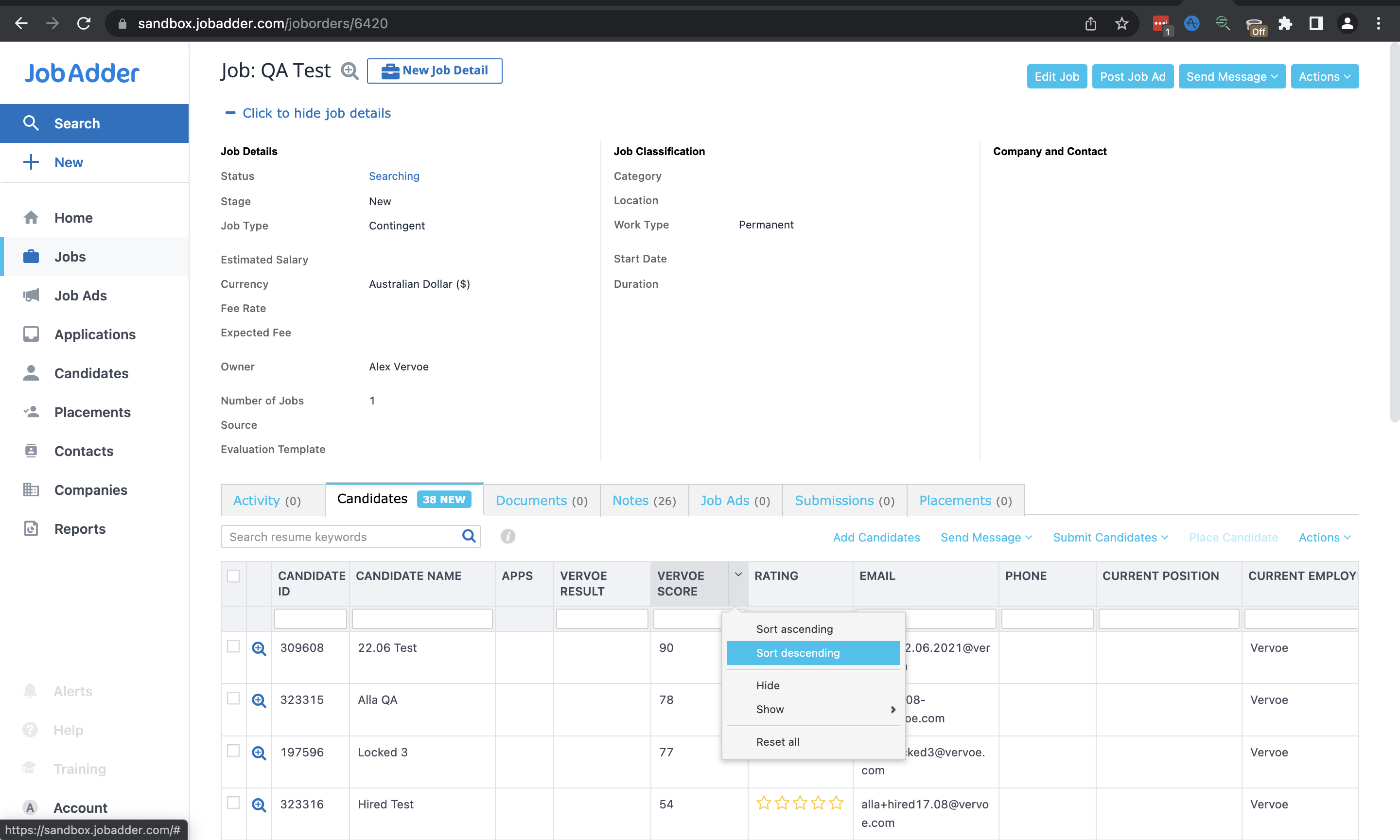 There will be no reapply feature with integration
Case with one candidate and multiple jobs:
Candidates cannot do the same test twice if they apply for different roles where the same assessment is used → The score for the second assessment is resent from the first assessment

The candidate applies for job A → Assessment A is completed and the score returned

The candidate applies for job B with assessment A → Assessment A is already completed and the score is returned