Steps to establish the connection
Click on the image icon on the top right of your account and choose Integrations and choose Greenhouse in the left side panel.
Move the toggle button to "Enable Greenhouse Integration"
Under Greenhouse API key, copy the key and send it to Green house support (support@greenhouse.io) so they can establish the connection to Vervoe.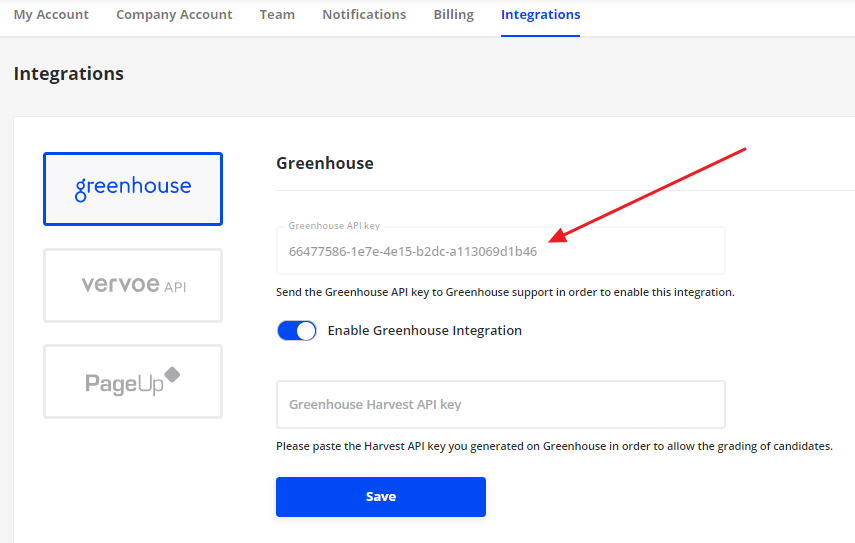 3. Once the connection has been established, generate a Harvest API key and add this to your Greenhouse Integration page in Vervoe. This will allow you to grade candidate answers right through Green House. Instructions on generating this key can be found below.
Grading the Skills Assessment
After a candidate completes a skills assessment you will be able to access the results through Greenhouse. Greenhouse checks for completed skills assessments every hour, so they won't appear instantly. If a skills assessment contains only auto-graded questions, you will be able to see the score and a link to the results in Vervoe. However, if you need to do additional grading, you will need to generate a "Harvest API key" through Greenhouse.
To do this, you will need to go to :
Configure>Dev Center> API Credentials Management> Create New API, and choose "Harvest" as the type.
It will then take you to the Manage API Key Permissions page where you need to select all the endpoints offered. After the Harvest key is generated, copy it and then paste it into an appropriate field in the "Greenhouse management" page in your Vervoe account.
Once this has been completed, you will be able to grade the completed skills assessments from your Greenhouse account. A link to the completed skills assessment will be available in the interview kit and will open in a page-sized window in a new tab for you to grade. Once you are done grading and click close, you will be logged out of Vervoe and the score will be updated in the candidate's activity feed.
Complete detailed steps to obtain the Harvest API can be found here.
Setting up and sending Vervoe tests through Greenhouse
Once your integration has been confirmed, please follow these steps in your Greenhouse account. Complete instructions can be found in Greenhouse support here.
Adding the Vervoe Interview Stage
To add the stage to your Interview Plan:
Navigate to a specific job, and click the Job Setup tab
Click Interview Plan
Scroll down the page, and click the green + Add Stage button
Select Vervoe Assessment, and click the Add button
Configuring the Stage
Once the stage has been added, click Edit Take Home Test. From there, you will see a drop-down menu that reflects the assessment that you've previously set up in Vervoe. Select the appropriate assessment, assign at least one Greenhouse user to grade/review submitted assessment, and then click Save.
Keep in mind that all configuration of the assessment itself, as well as the email template, will need to be handled in Vervoe. While you will click "Send Test" from within Greenhouse, the interview instructions are actually sent by Vervoe.
Sending the Test
When candidates are moved into the Vervoe Interview stage, Greenhouse will display a Send Test link. While you will click "Send Test" in Greenhouse, the interview instructions will actually be sent through Vervoe.
The status of the assessment will be viewable in Greenhouse:
Take Home Test to be sent.
Waiting for candidate to submit test
Scorecard due from <DESIGNATED_GRADER>
Reviewing Test Results
Once the candidate has submitted their test, the Interview Kit will contain a link to view the submitted test on Vervoe.