The attempt to assess a candidate's Marketing skills, before hiring, is a unique challenge to say the least. Due to the multifaceted nature of the roles, a blend of skills spanning data analysis, creativity, innovation, and adaptability, crafting a single assessment that effectively gauges these skills proves complex.
The Marketing industry's practical, real-world application and dynamic context make traditional tests less applicable, and the need to balance quantitative and qualitative metrics adds another layer of complexity. With this in mind, we at Vervoe have concluded that watching candidates perform within a simulation of Marketing applications and platforms would be a better way to gauge a candidate's knowledge and skills. If your company is in search of a simulation that allows you to watch candidates perform the job, you're in the right place!
Marketing Simulations - Job Roles
We have 3 Marketing Simulation use cases that each take approximately 1 hour to complete:
Growth Marketing Manager

Candidate sest up a customer workflow using an intercom type tool, match messaging, and flow to the target audience, and plan types.

SEO Manager

Candidate reviews data and a live page, to identify areas for optimization. (including content, structure, metadata, and technical implications.)

Content Marketing Manager

Candidate designs a content marketing strategy with a few short-term goals, including a content calendar, then collaborates with stakeholders, including the design team, to produce well-packaged high-quality content. Ensures relevant tasks are delegated to meet deadlines and improve content through editing and, proofreading.
These use cases consist of up to 9 tasks, made up of different question types like text, video, audio spreadsheets, documents, and MC.
Due to the complexity of the simulations, and the holistic nature of the tasks, the library assessments contain no other questions apart from the simulations. We would recommend that you only use additional questions for things such as specific company culture fit or related skills.
Candidate Experience
Once a candidate clicks into the simulation, they'll be greeted by a quick walkthrough introducing them to all of the features. They need to click "next" to progress through the steps and then "start" to commence.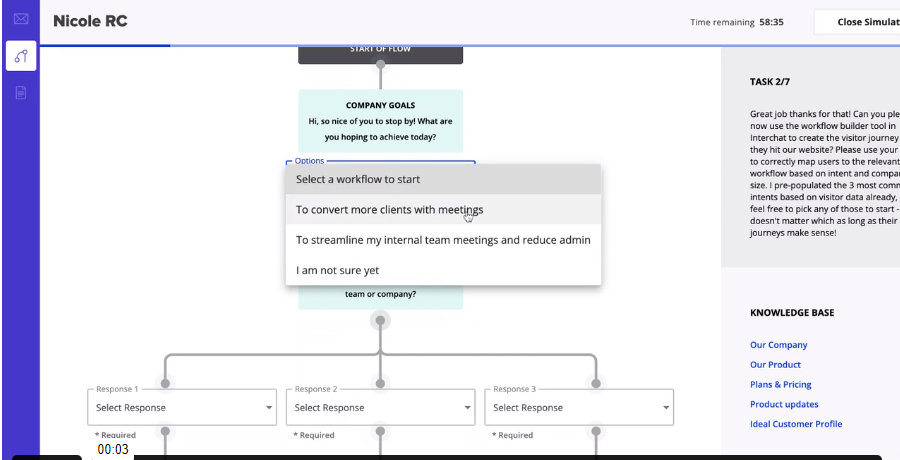 The simulation framework uses several key components which can be accessed via the icons in the left-hand panel;

Email - This is where candidates will see new emails from their colleagues
Workflow builder - This is where candidates will create the steps and interactions a customer will have when visiting their site in an intercom-type tool
Documents - This contains several data-based reports and documents that the candidate will work through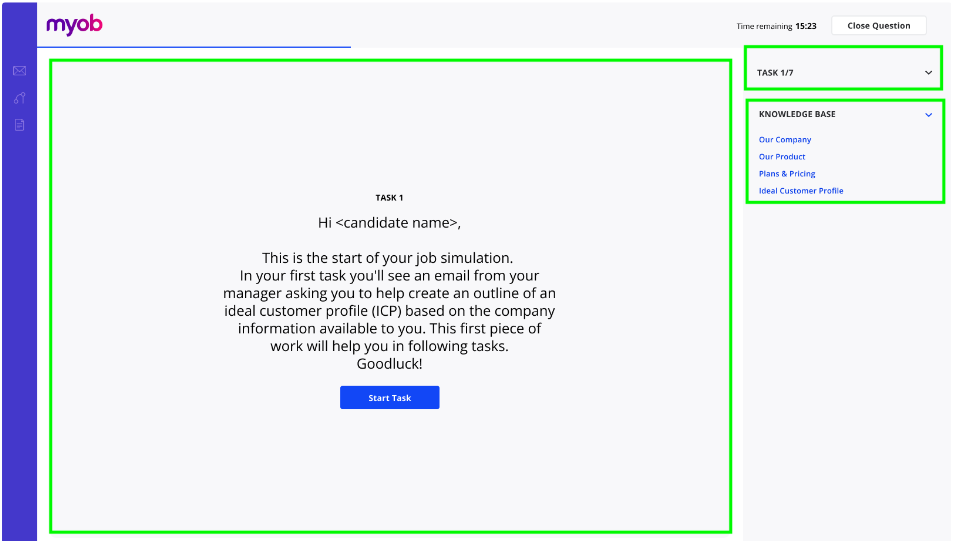 Like the other simulations, the tasks and knowledge base are located in the righthand panel with the primary workspace in the middle.
Growth Marketing Simulation
This simulation features a workflow builder tool that will allow candidates to show their logical reasoning and strategic thinking. They'll need to rely on the ICP document they create in the first task to properly route traffic to a specific funnel on the website. While the workflow makes it easy to select an option, only candidates that understand the context and apply it will perform well.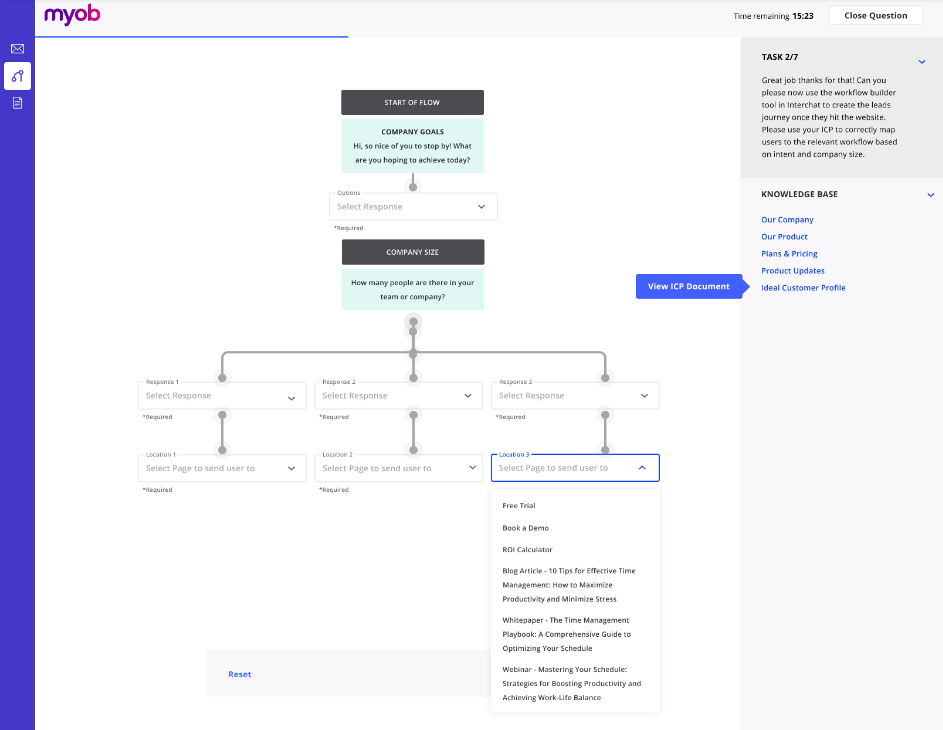 There's also an Amplitude dashboard embedded in the simulation that will assist candidates in filling out a traffic tracker spreadsheet. This task will allow candidates to showcase their digital aptitude and their data analysis skills.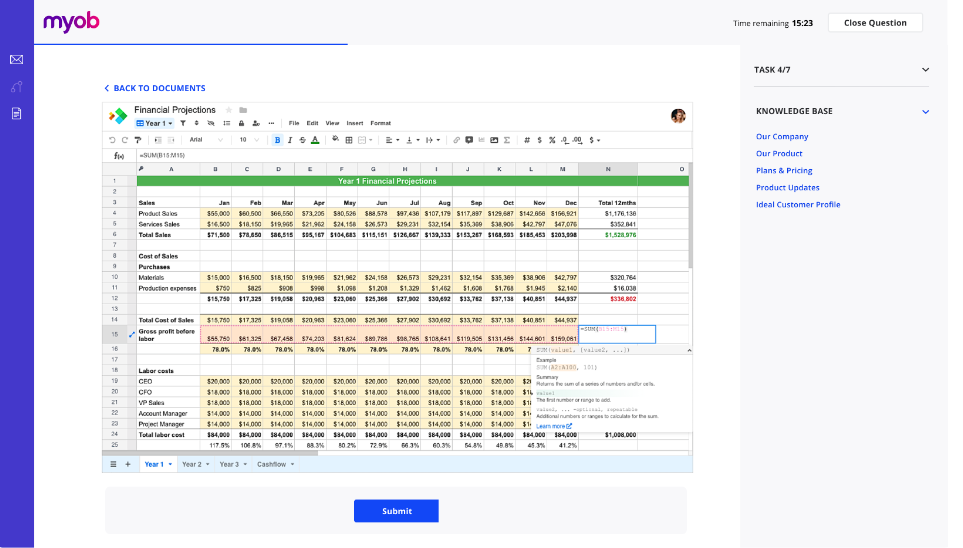 SEO Simulation
This simulation features a live product website that candidates must review to fill in site optimization details in a spreadsheet. Candidates will be looking at metadata, site speed, caching, Google indexing and visual improvements. These tasks will test both their technical ability and creativity.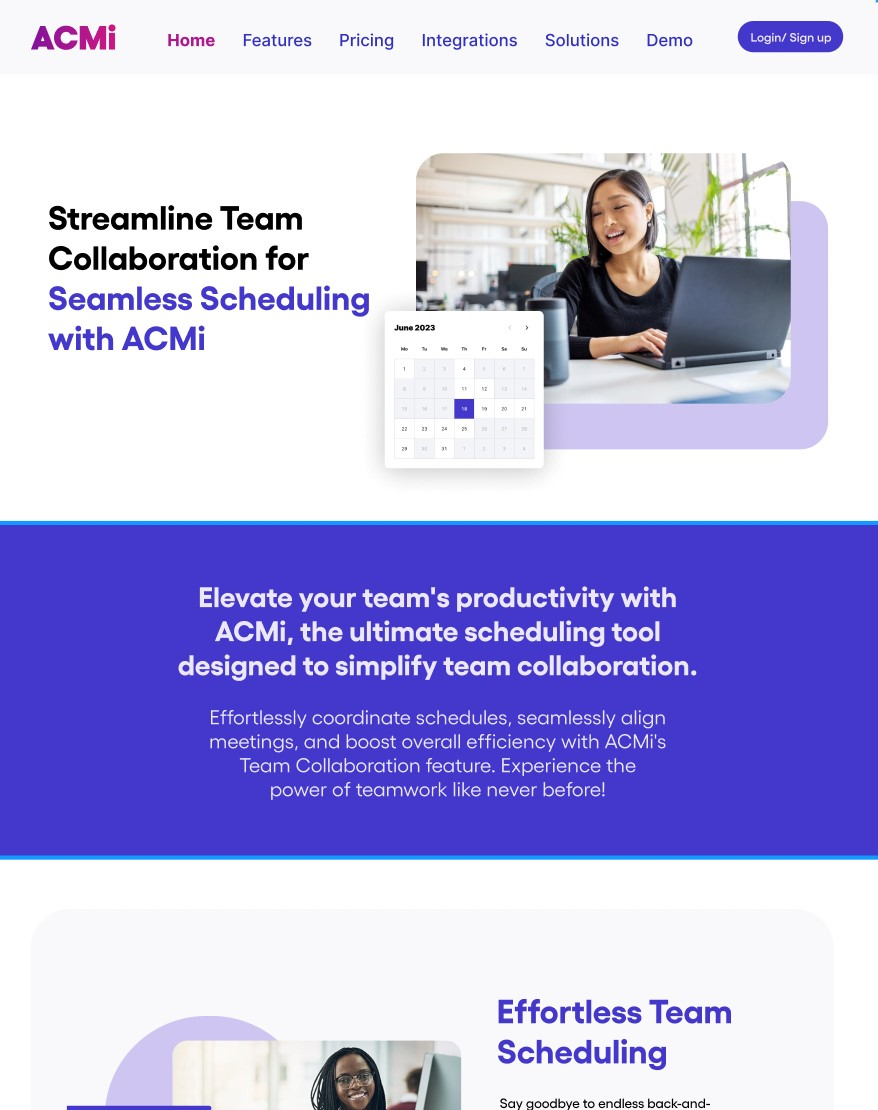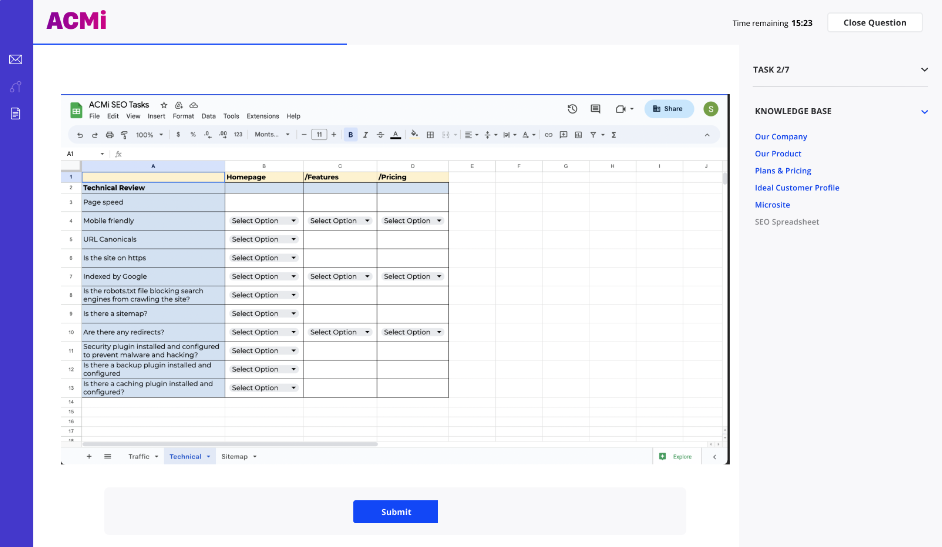 Content Marketer Simulation
Includes a task where candidates will review a competitor article and then create their own action plan to get something similar live ASAP. This task will let them showcase their observation and critical thinking skills, and then put it all into practice within a realistic timeframe.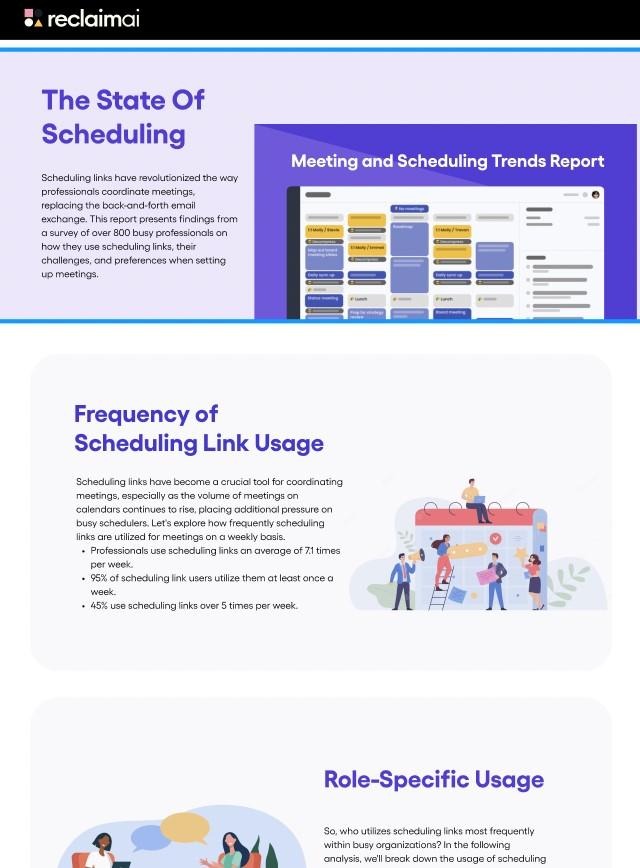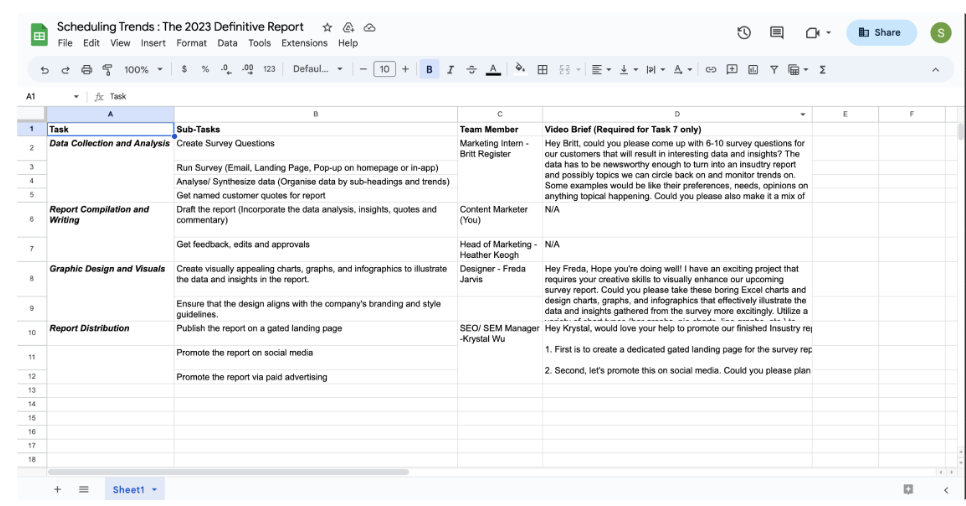 Finding the Simulation
The simulations can be found in the library under the Marketing category, or by using the simulations filter in search. The assessments are:
Growth Marketing Simulation
SEO Simulation
Content Marketing Simulation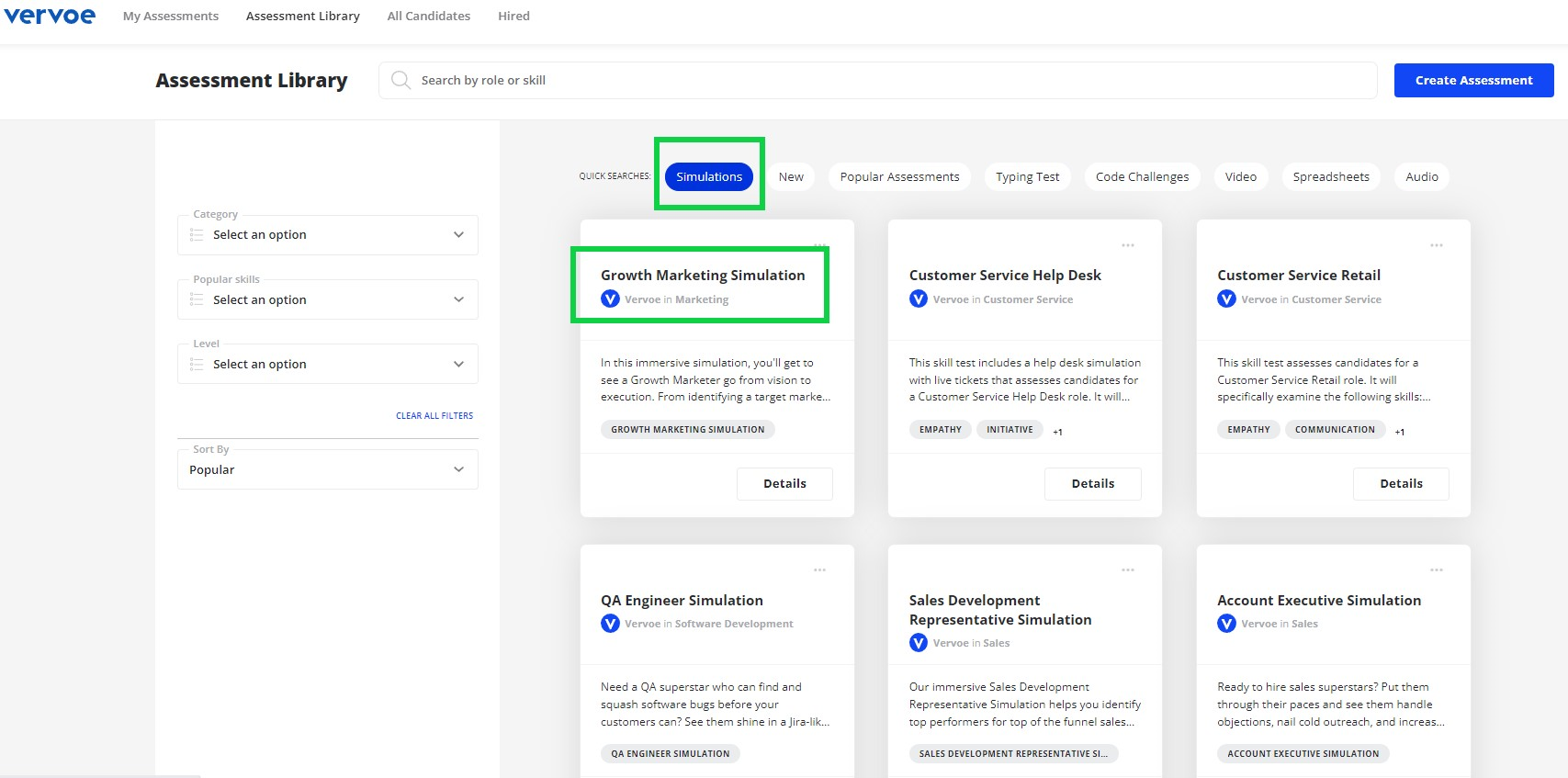 Your company can also add the simulation directly to your own assessment via the Create editor.
First, you'll need to select the simulation question type and then "Marketing Simulation".
Once selected, you'll be able to select the version you want to add to your assessment.
Please note: By default, the timer is set to 1 hr for the candidate to complete the simulations.
Reporting
The candidate report card has been enhanced to include the subskills related to the simulation in the skills panel at the top of the card. The Marketing simulations also include an in-depth review of each task, including the candidate response, which for AI-graded questions can also be manually scored.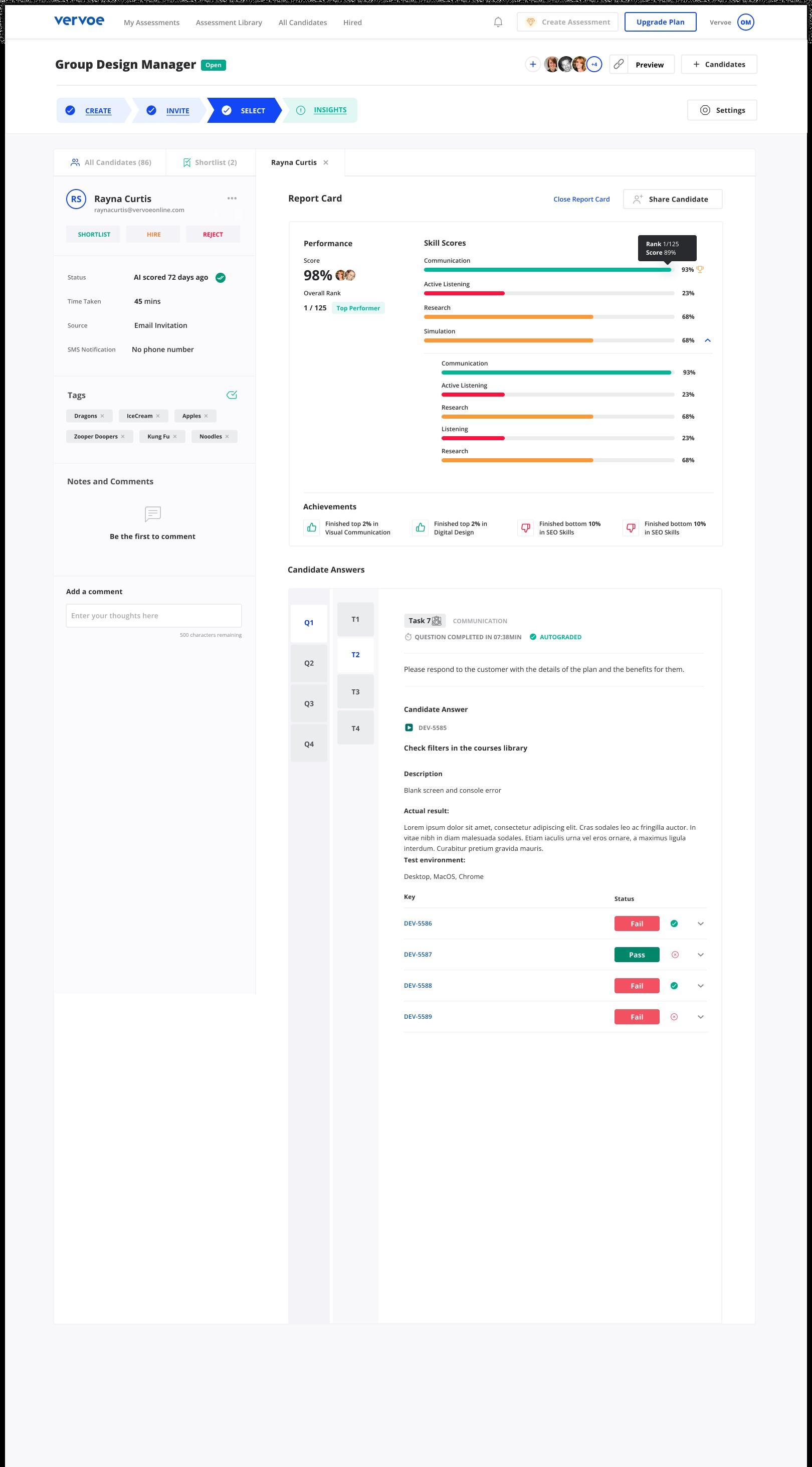 If you have any questions about the Marketing Simulations, please feel free to either reach out to your CSM or support@vervoe.com