QA engineers play a crucial role in the software development process, ensuring that products meet the required quality standards, are free from defects, and function as intended. As technology advances and businesses become increasingly reliant on software applications and digital solutions, the demand for skilled QA engineers continues to grow. In an immersive, bug tracking, Jira-like environment, Vervoe's QA Simulation is a great way to test candidates' attention to detail, critical thinking and QA abilities!
Due to the complexity of the simulations, and the holistic nature of the tasks, the library assessments contain no other questions apart from the simulations. We would recommend that you only use additional questions for things such as specific company culture fit or related skills.
Candidate Experience
The simulation framework is based on Jira, which is a popular project management and issue tracking tool. It is widely used by software development teams to plan, track, and manage their projects efficiently. As for the product within the simulation, we've developed a live product that supports 2 main functions. The product is called ACMi and is similar to a calendly-type scheduling tool.
Once a candidate clicks into the simulation they'll be greeted by a quick walkthrough introducing them to all of the features. They need to click next to progress through the steps and then start to commence.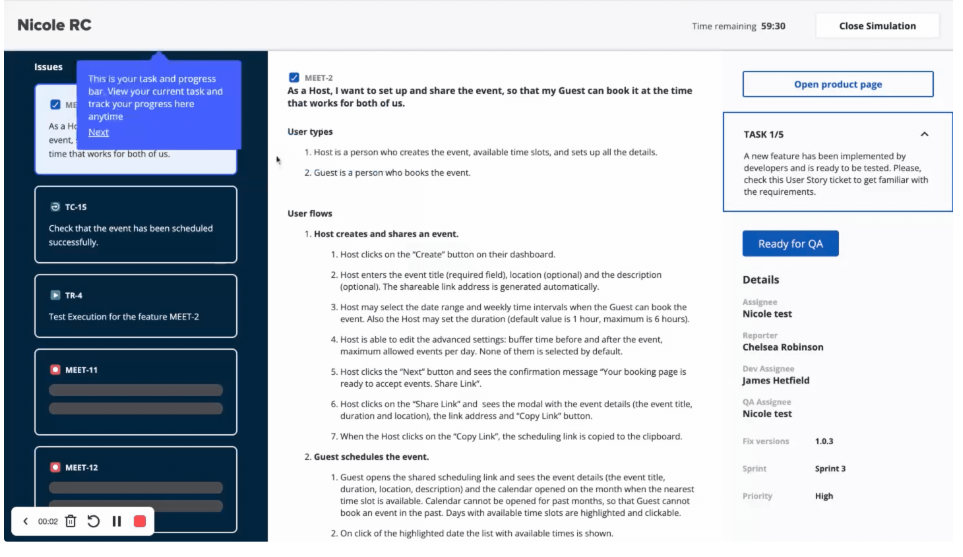 In our UI the lefthand panel contains a list of tickets which each contain a task the candidate needs to complete. The center workspace displays the information on the ticket and the righthand panel houses the link out to the product, the current task, and information related to the task the candidate is completing.
Finding the Simulation
The simulation can be found in the library under the Software Development category, or by using the simulations filter in search. The assessment is entitled QA Engineer Simulation.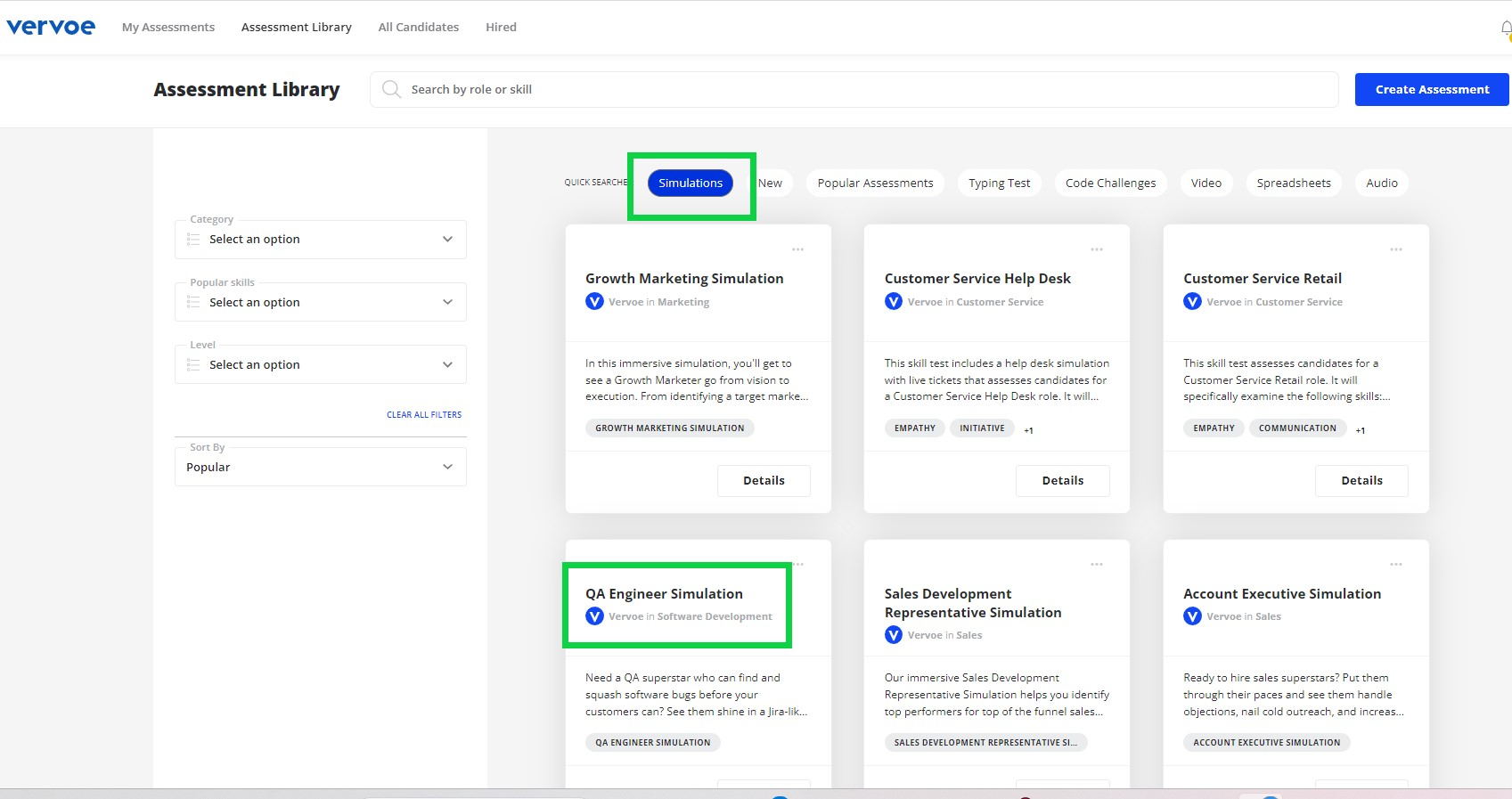 Your company can also add the simulation directly to your own assessment via the Create editor.
First, you'll need to select the simulation question type and then "QA Simulation"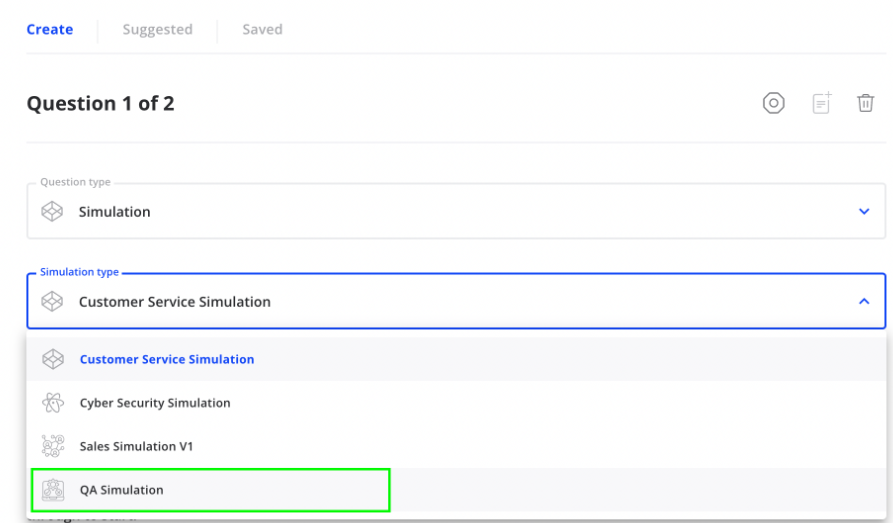 Once selected, you'll be able to add the version to your assessment.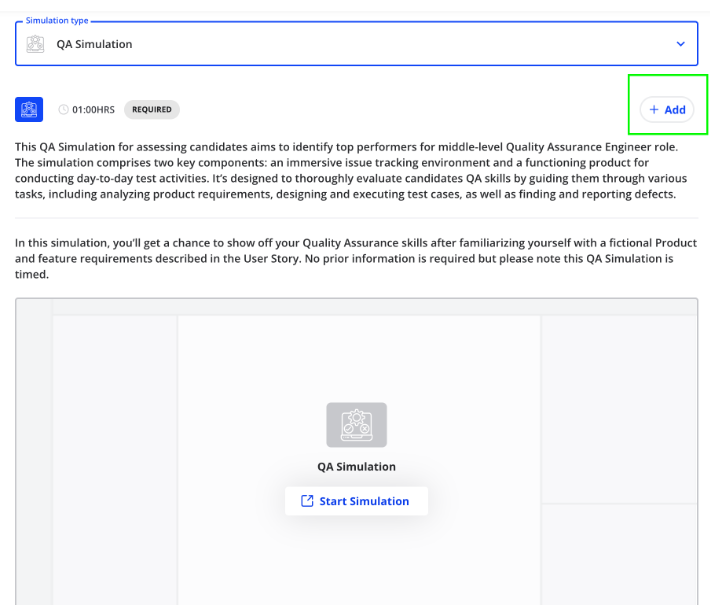 Please note: By default, the timer is set to 1 hr for the candidate to complete the simulation.
Reporting
The candidate report card has been enhanced to include the subskills related to the simulation in the skills panel at the top of the card. The QA simulation question also includes an in-depth review of each task, including the candidate response, which for AI-graded questions can also be manually scored.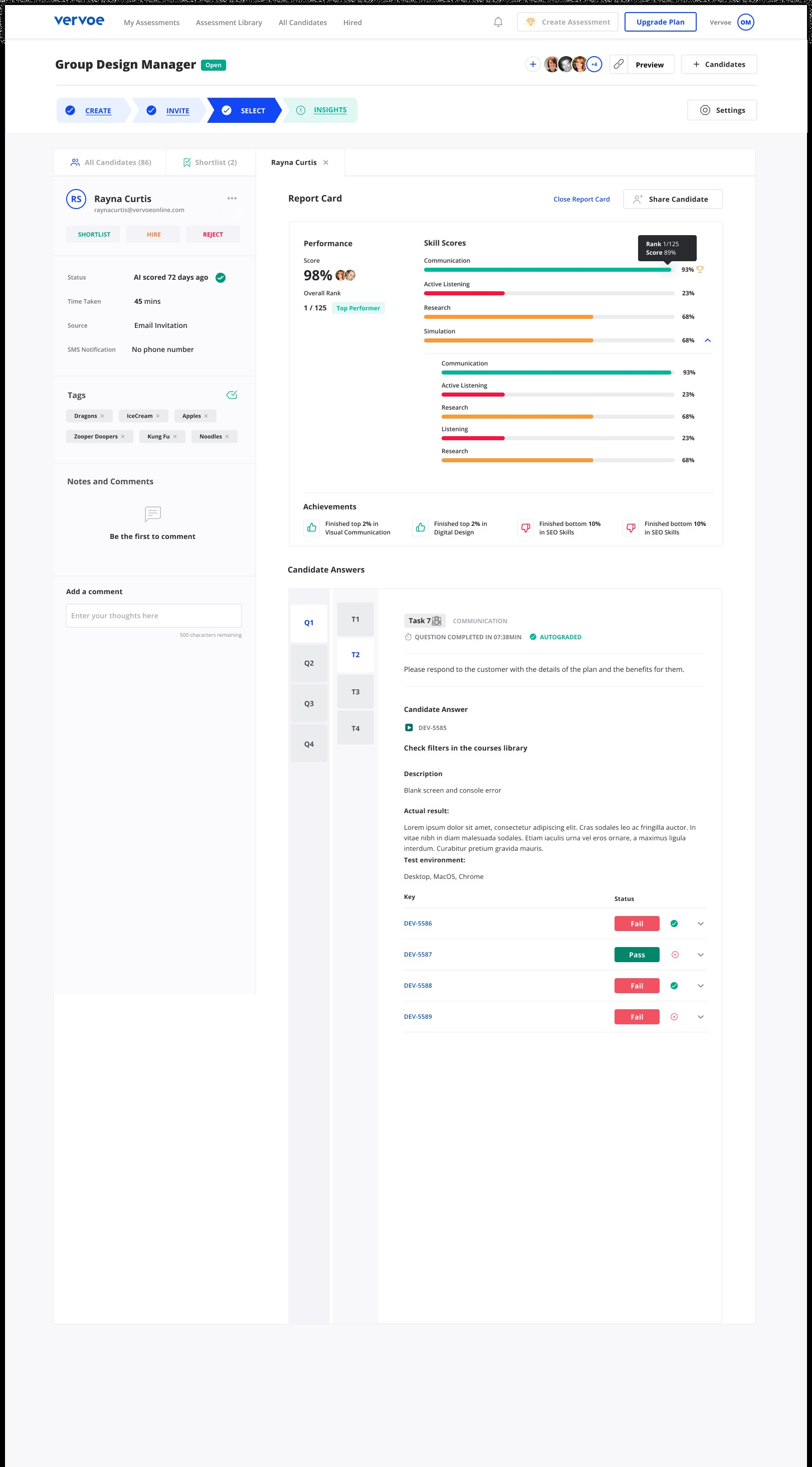 If you have any questions about the QA Simulation, please feel free to either reach out to your CSM or support@vervoe.com