In this article:

Adding your Company logo
Company Settings
Now that you've created your account, adding details and branding for your company will help customize your presence on the Vervoe platform. To enter your company details and branding, navigate to your profile dropdown menu, and select "Company Account":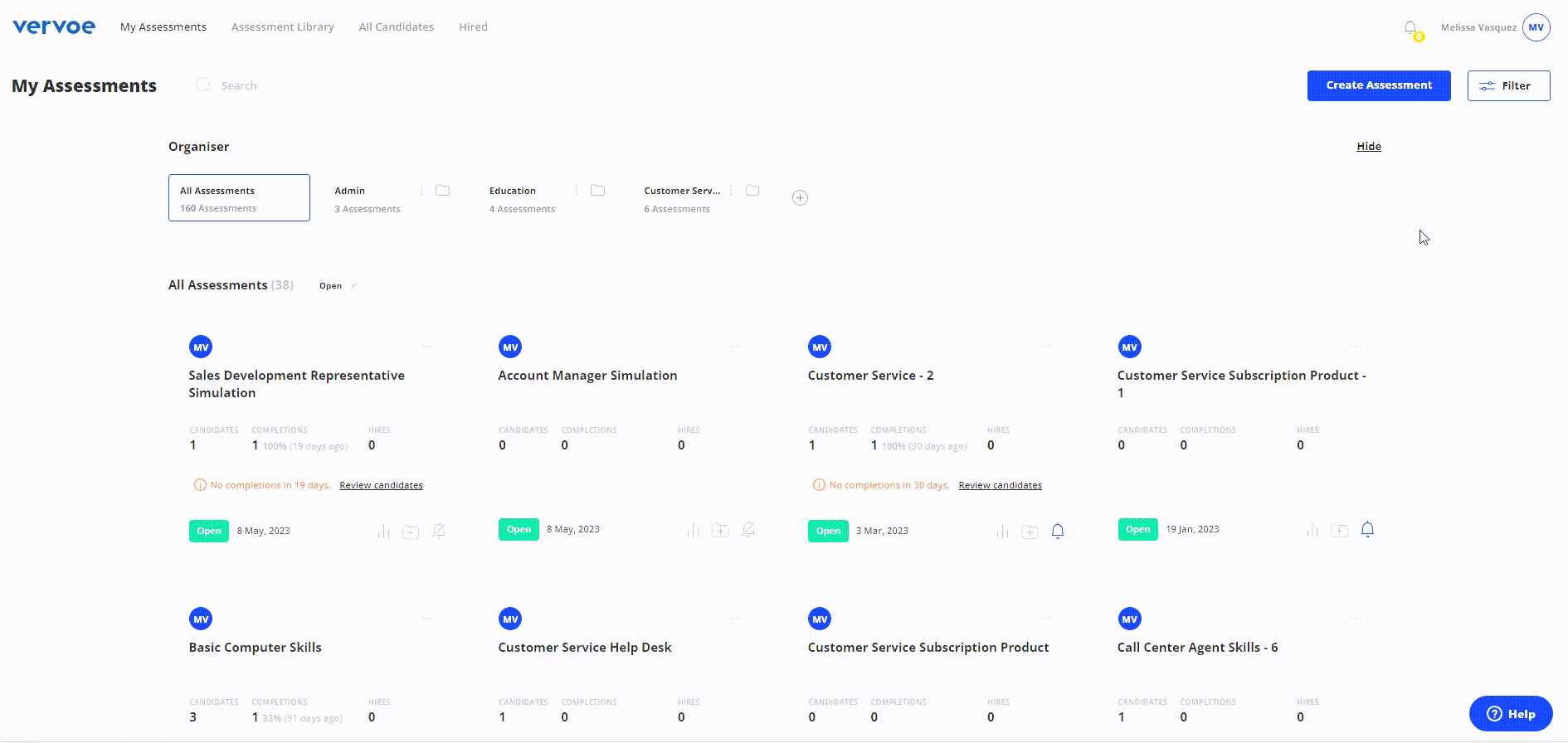 From here, you'll be able to add your Company Name, Headquarters Location, Website Address, Company Location, Time zone, and you can add your company's background in the "About Us" section. You can also edit the language candidates will see your assessment details in, as well as Candidate Tags used.
Adding your Company Logo
Adding a company logo is an essential step in branding your Vervoe assessments for a more seamless candidate experience. To update your logo, once your Company Settings load, click the "browse" link beneath the Drag & Drop icon. The logo should have transparent background if possible, and should at least be 100x100px.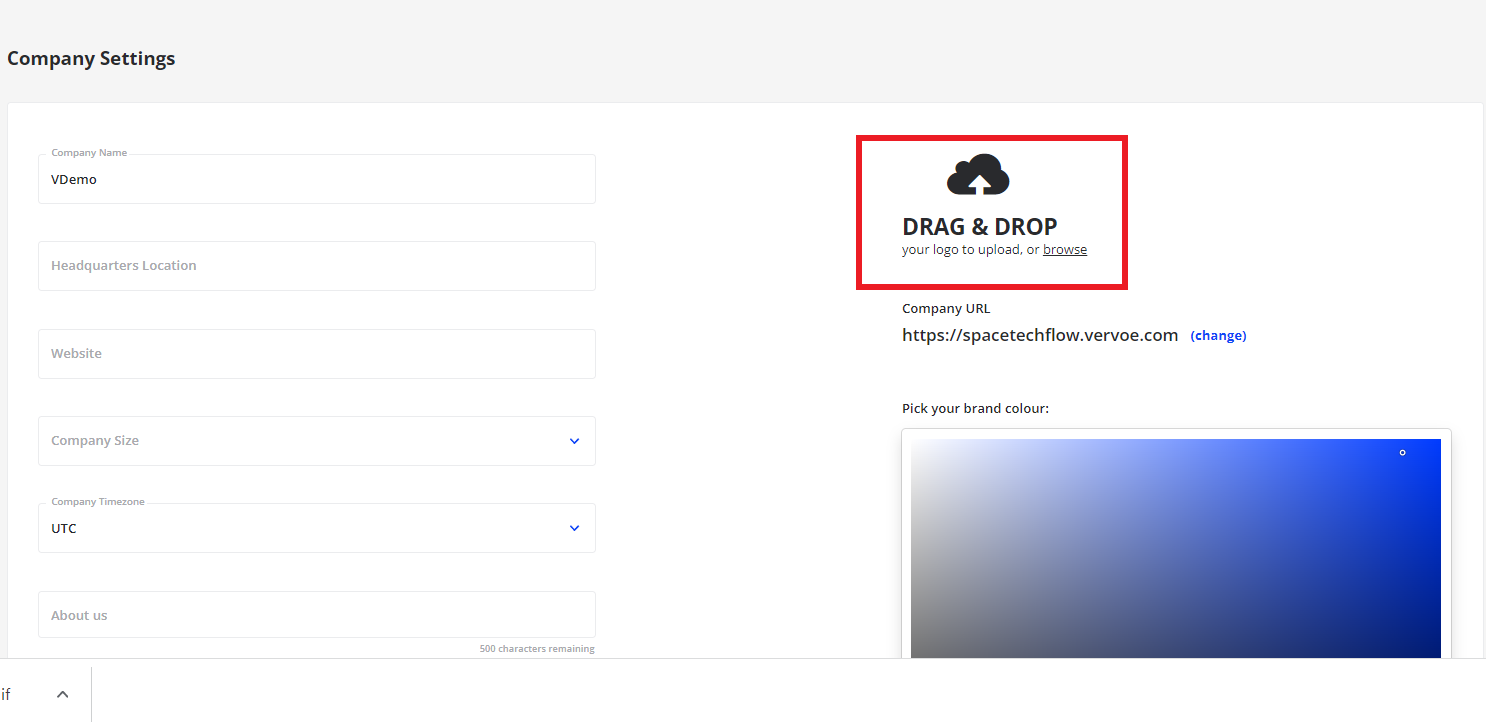 You can also pick a brand color to display buttons and certain text in the candidate welcome page and emails sent to candidates. (Please note that when you upload your logo, the system automatically chooses the dominant color as your brand color. You can of course update the color or add a specific HTML color code)
Changing your company URL
If you'd like to update the URL candidates will see, you can do so by clicking the blue "change" button, next to the existing URL.
WARNING: Make sure you don't have any active assessments before changing the company URL. If you make changes during an active assessment, ALL links associated with the active assessment will break.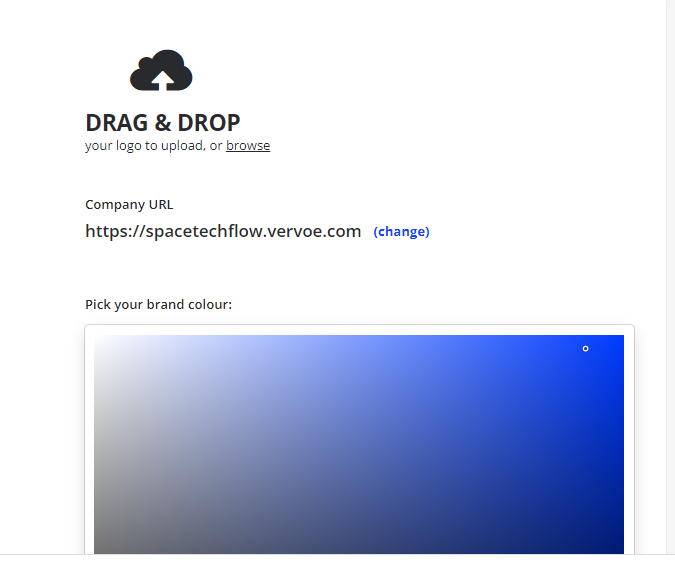 **Please note that the company URL you see here is not the one that will direct to your specific assessment. It is only a part of the assessment application link.

To access your specific assessment link and/or generate unique ones to post in different locations, please read this article.

For general information on different options to get candidates to apply, read here.
Candidate Display Language
The candidate app can now appear in either English or Spanish. By default, the candidate app is available in English. If you would like the candidate app to appear in Spanish, click on Company Account from the image icon on the top right, scroll down to the Candidate display dropdown and click on Spanish and then click the blue Update Settings button.
Once activated the language for all candidate facing content will be updated to Spanish. This includes emails, subject lines, buttons, and all instructions and content in the candidate dashboard.
Please note that once you choose a language, it will appear this way for all your assessments. The system will not auto-translate your question content. You must create your assessment in the language you prefer. The candidate app language setting is simply for all content related to the Vervoe app.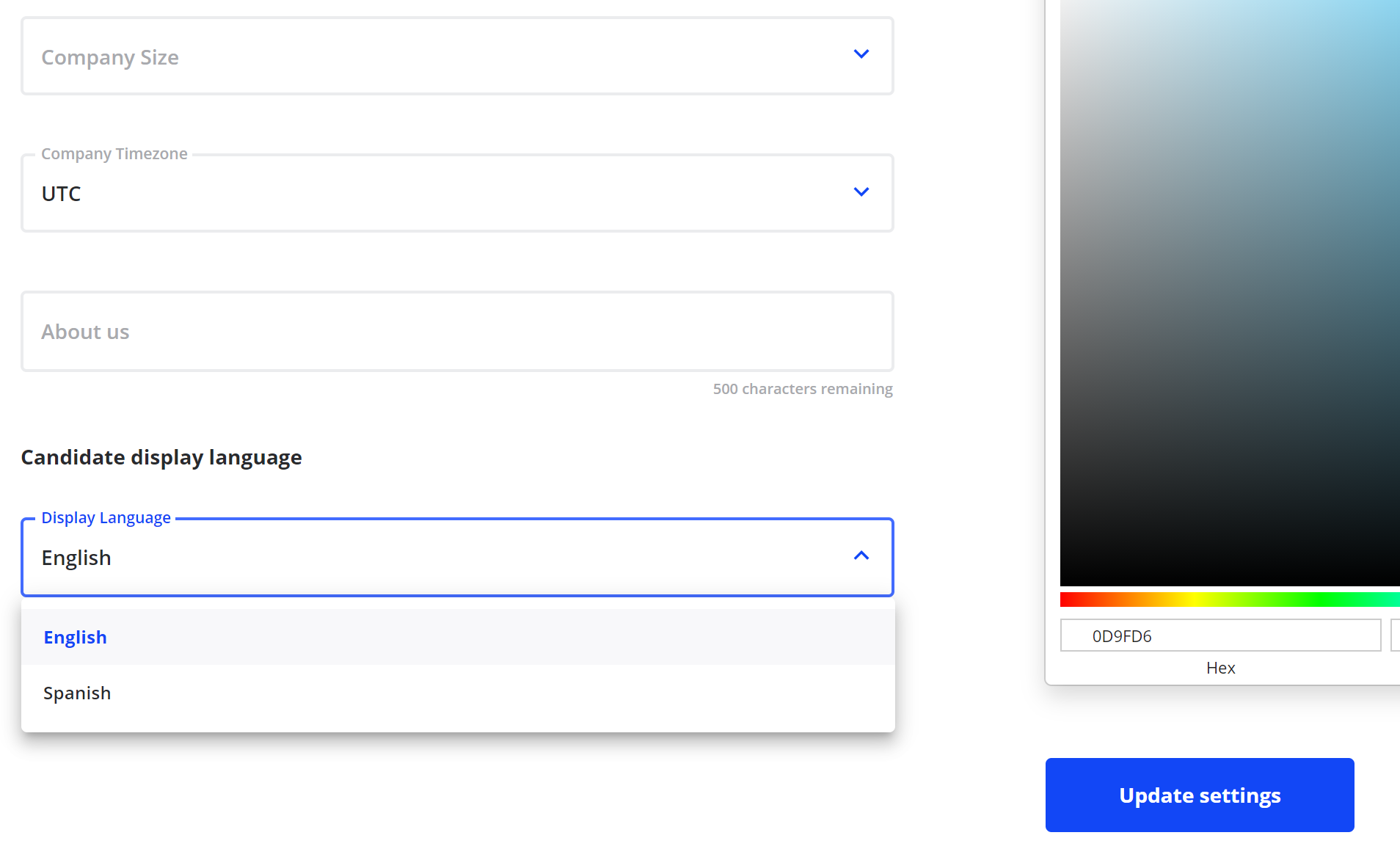 Managing Candidate Tags
Candidate tags can be managed in your company account settings. Navigate to the settings icon in the top right corner of your dashboard and from the dropdown choose "Company Account". At the bottom of the company account page, you have the option to create new tags and rename or delete existing tags. You can have up to 20 tags in your account.
Tag names must have a minimum of 1 character and a max of 150 characters.
To learn more about branding individual assessments (if each assessment may represent a different department or entity), feel free to review this article here.