Vervoe has a number of anti-cheating features in place, and our new Candidate Geolocation Tracking feature has now arrived! Candidates will now be flagged whenever they suspiciously complete an assessment from multiple locations, within a short amount of time. Take a look at how and where this is tracked, below.
How does Geolocation Tracking work?
Initially, tracking requests will be made when a candidate starts/resumes an assessment, and when questions are loaded. If the candidate works or has applied to the same assessment from different locations during a 30-minute time period, this candidate will be flagged as a potential cheater. A "multiple locations detected" flag will be placed next to the candidate's assessment, along with the cities in which the assessment was taken.
Please note, if the candidate reapplies (assessment is reset on the backend) or if their assessment deadline is extended, the location flags will be reset and removed.
Where can I find flagged candidates?
Flags on Select page
The location flag is only shown for candidates that have completed the assessment:
Flags on Candidate Report Card
The list of cities that were detected are shown on the notification banner from the Candidate Report Card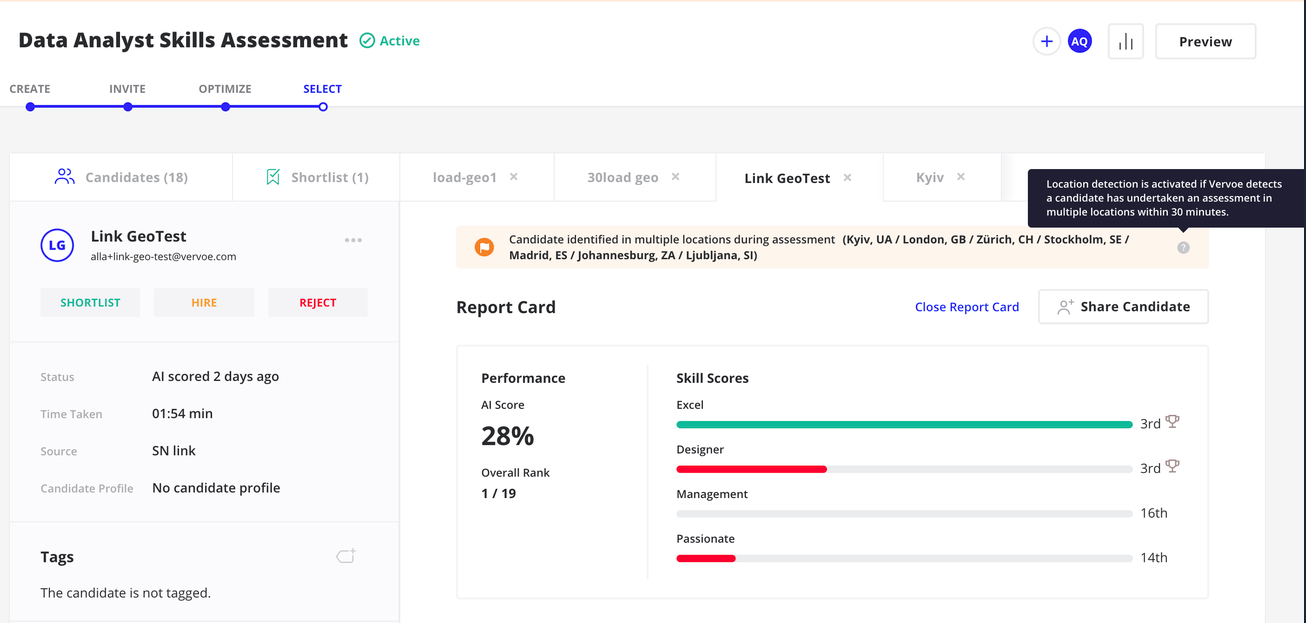 There is no ability to remove the flag after reviewing the candidate
What should I do now?
If you come across candidates that are flagged, it's ultimately your company's decision of which actions to now take. Some companies may choose to ask the candidate why they completed it from multiple locations, or they may choose to exclude the candidate if they feel (based on other aspects of the assessment) that it is likely that candidate cheated. Whichever route you choose, Vervoe is here to help provide you with the data you need.
Stay tuned as we add more anti-cheating features to ensure you are selecting the best candidate! In the meantime, learn more about the Select stage of your candidate review process by taking a look at this article here.