Assessment folders allow users to group their assessments together by job, location, company, or other naming conventions. The folders are accessible to all Enterprise and Professional users via the "My Assessments" tab.
Assessment folders can be created by clicking the + sign under the organizer space at the top of the "My Assessments" page. Once created, you can add an assessment to a folder by clicking the folders icon

on the card then selecting the group you would like to add it to.
To remove an assessment from a folder, click on the assessment name from the drop-down of the folders icon.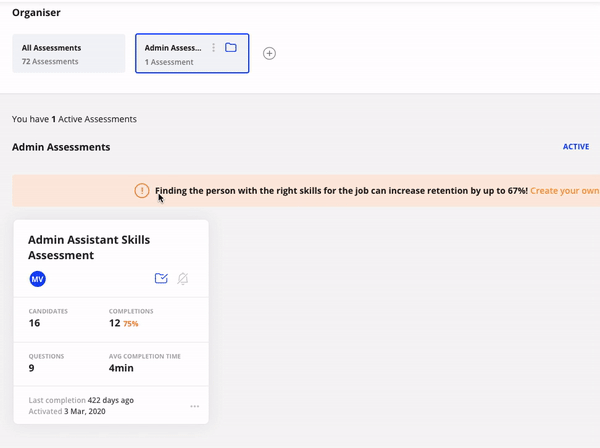 Additional notes to remember:
You can create as many folders as you need, and each folder can contain as many active/inactive assessments as you prefer.
The folders act as storage containers and do not have the capability to move candidates from one to the other.
Folders can be renamed or deleted without affecting the assessments themselves.
To learn how to create assessments, visit this article here.