Welcome to the Vervoe platform! If you were invited to take an interview assessment, or if you've clicked onto a job link and landed here, you are in the right place to learn how to use the platform!
Please keep in mind that Vervoe is a platform your employer uses to send interview assessments, however we are not a part of the hiring team and do not have information pertaining to your application status.
We've created a guide explaining what the interview assessment process entails for you as a candidate. Stay tuned for a very helpful breakdown, but if you'd like to skip to a section, here is a list of what we'll cover:
Magic Link to access Interview Assessment
Test Audio/Video (plus troubleshooting steps)
Submitting the Interview Assessment
Frequently Asked Questions (FAQ)
Getting Started
Step 1: Make sure you are using a supported browser and device.
Overall, Google Chrome is the best browser to use no matter which device you are using. However, you can check if your browser is supported here.
PCs and Laptops are what we recommend to use, as certain questions require answers via Google Suites, and unfortunately these are not accessible using a mobile device. However, if the employer confirms you do not have these question types, feel free to use your mobile device while connected to wifi.
Step 2: Check for the magic link.
If you've been invited by the employer via email, please make sure to check your email inbox for an invitation that contains our "magic link". This will give you immediate access to the interview assessment. Scroll down, and click the "View Interview" blue button to jump right in!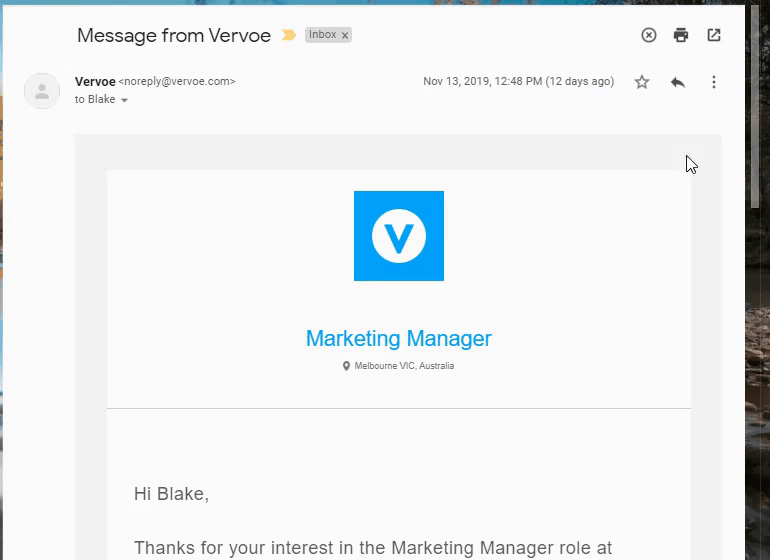 If the employer did not send an email, but instead posted a link to the interview assessment, once you fill out your name and email address, you'll gain access and will also be emailed a magic link!
Step 3: Test your video/audio setup.
If your assessment requires video/audio answers, on the next screen you will find the option (or requirement from some employers) to test your video/audio setup.
This is a highly recommended step to take before the assessment, as many candidates find it inconvenient when an unexpected video/audio issue occurs mid-assessment.
If you have any concerns regarding this step, you can search our help center, or you can check out this list of helpful articles to read: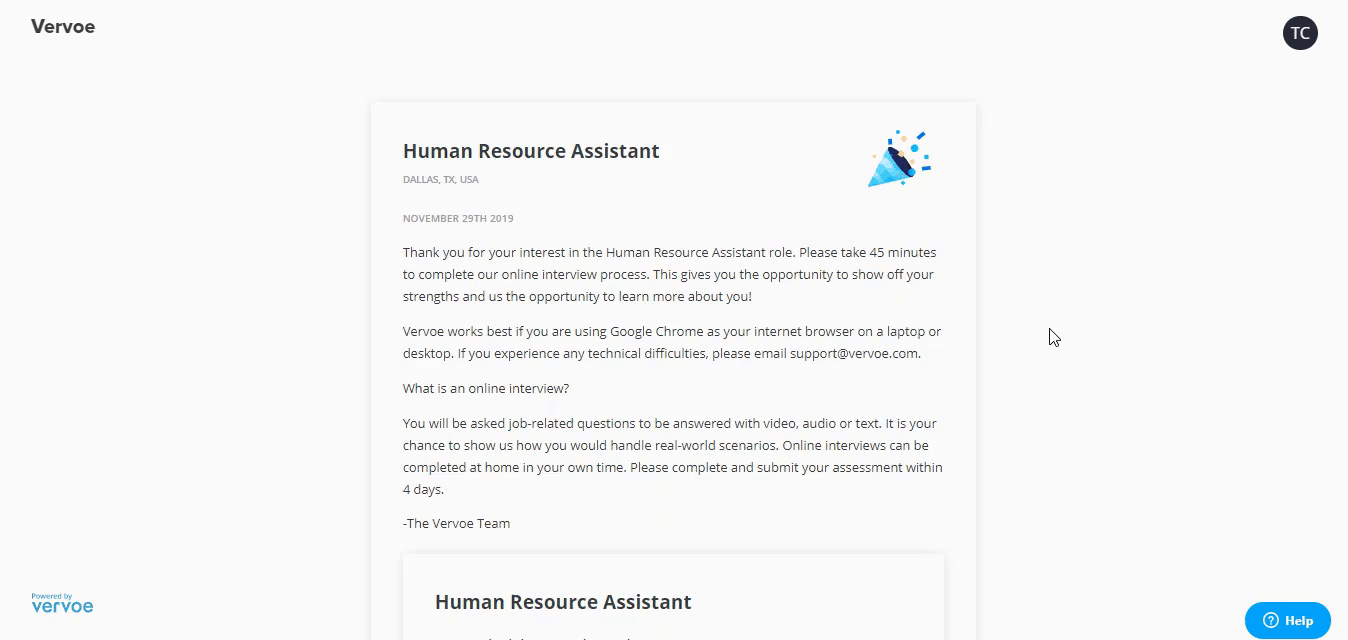 Completing your Interview Assessment
Step 4: Prepare for question types.
Employers tend to use a variety of question types (multiple choice, text answers, video/audio, coding, Google Suites, etc.) so you'll need to prepare to get creative in your answers.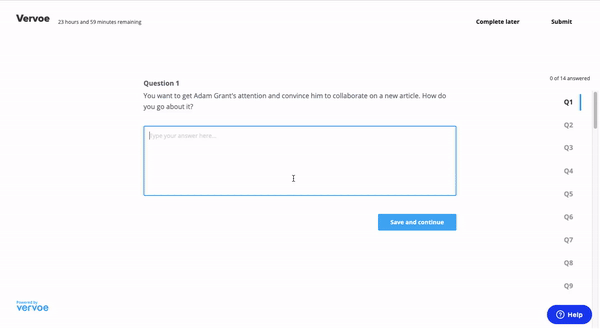 Some assessments are timed, so it is best to keep an eye on how much time you have left.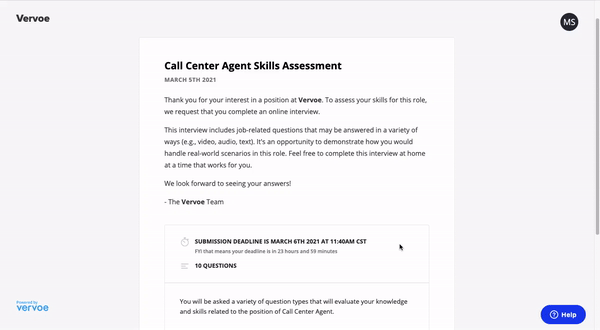 Some individual questions have their own timers as well, so please keep an eye on the timer here as well.
Step 5: Submitting your assessment.
If you choose to complete your assessment at a later time, you can click the "Complete Later" button at the top of your screen, but please make sure to return before the timer or deadline expires, as the option to complete later will not pause any timers.
If you've answered all questions and are ready to submit, you'll see the option to click the blue "Submit" button under the last assessment question.
What's Next?
After you've submitted your interview assessment, the employer will receive a notification to grade your assessment. Depending on the application pool, this may take the employer anywhere from 1-4 weeks to complete. Unfortunately, Vervoe does not have any information pertaining to the status of your application, however you can reach out directly to the employer's hiring team for more information.
Frequently Asked Questions (FAQ)