Test Your Equipment Before Starting the Interview
Recording a Video or Audio Response
Recording Using a Mobile Phone
Test Your Equipment Before Starting the Interview
If your interview requires a video or audio response, you will be given the option to test your equipment before you start the interview.
Once you have accessed the assessment dashboard, you can proceed to interview "Preparation", then "Test your microphone and camera". Please follow these steps to test that your microphone and camera are working correctly:
Click

Record Video/Audio

below.
When prompted by your browser, click

Allow,

to grant access to your camera and microphone. This is necessary for audio and video questions.
Click

'Record'

in the video box and start speaking. When you are done click

'Stop'

Press play and make sure your video and audio is recorded.
Some employers make testing your equipment mandatory before you can access the interview. If this is the case, you MUST complete the equipment test before you have the option to start the interview. If you do not complete the equipment check, you will continue to be brought back to the assessment dashboard until you proceed to follow the steps to test your equipment.
Recording a Video or Audio Response
For video questions, you can choose to record with your webcam or upload a video that you have saved on your computer. If the question has timers, keep in mind that you must record and submit the response before the timer runs out.
Recording directly through the platform is encouraged. However, if you are experiencing issues recording in your browser, you can also use the default camera application on your device to record your response outside of the platform, then upload it.

Make sure to wait for your video to fully process and upload before submitting your assessment. You should be able to replay your video response. This is an indication that the video was successfully uploaded.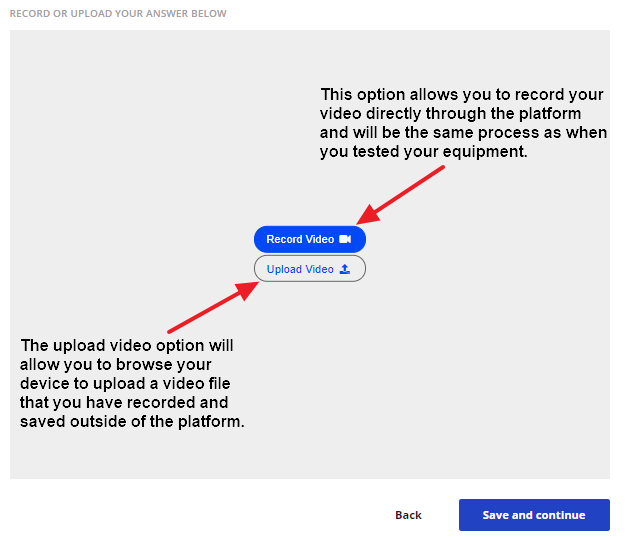 Audio questions will only provide the option to record your voice response directly through the platform. To record audio, press the "Record Audio" option in the media display box. If your browser asks for permission to access your microphone, make sure you approve access to proceed with recording.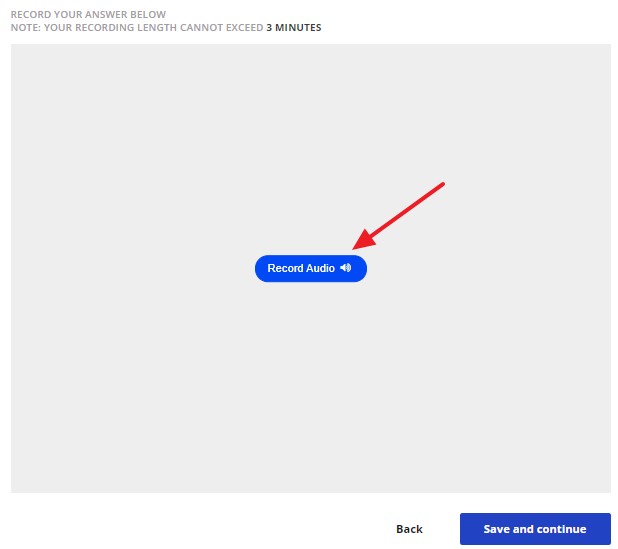 Recording Using a Mobile Phone
We recommend that you use a desktop and a Google Chrome browser to complete audio/video responses. However, if you do not have a webcam, you can use a mobile phone with a built-in camera to record your answers.
If you are accessing your interview on your mobile device, first make sure that you are connected to Wi-Fi and have a strong internet connection.
You will also have to allow your browser access to your camera and microphone before you are able to record as demonstrated in the video instructions below:
Please note that when using a mobile device, your video response may take longer to upload and process - this is normal. To help speed up this step, make sure you have a strong Wi-Fi connection before recording.