*****ALERT- UPDATE on March 17, 2023****


If you are currently using Chrome, it may be the problem.
We normally recommend using Chrome, but unfortunately, Chrome has released an update that is causing problems with some applications. Our team is working on solving this issue, but in the meantime, you can use the Firefox browser to complete the video responses.
You can also try Safari (the latest version) if you use a Mac computer.
________________________________________________________________________________________________________________
Depending on your internet connection it may take your video response a couple of minutes to process and upload - this is normal. If after several minutes your video still has not finished processing, please connect to Wi-Fi and ensure that you have a strong internet connection before trying to record or upload your recording again.
Alternatively, you have two options for recording a video response, you can choose to record with your device's built-in webcam or upload a video that you have saved on your computer.
Recording directly through the platform is encouraged. However, if you are experiencing issues with the video processing in your browser, you can also use the default camera application on your device to record your response outside of the platform, then upload it.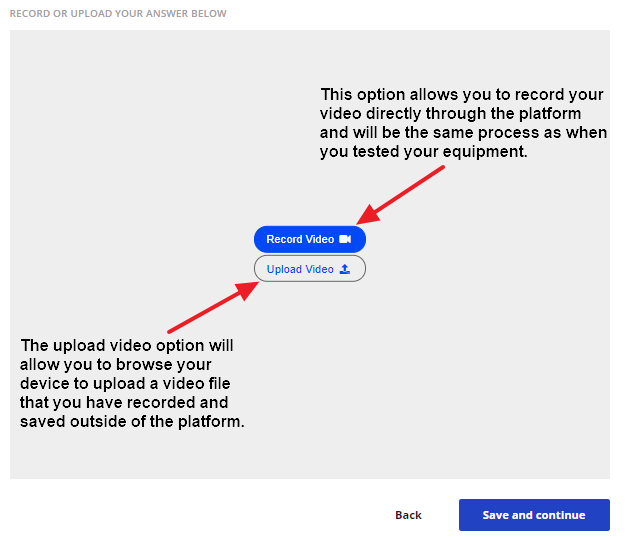 We recommend using a desktop device with a Google Chrome browser and a strong Wi-Fi internet connection for optimal performance.