In this article:
Export all candidates
Employers on the Pro plan or Enterprise plan can export all candidates currently in their account by clicking on "Candidates", located in the top navigation bar.
Once in that section, click on the "Export to CSV" button.

A new window will open with additional information and steps.
If you have previously exported candidates, you can choose to exclude those from the CSV export by ticking the checkbox.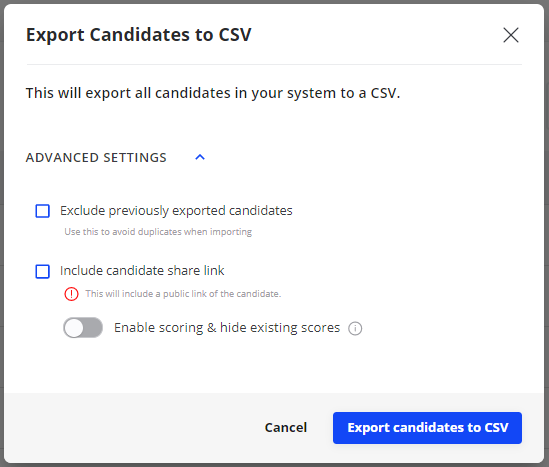 Once you click the Export candidates to CSV button, your file will begin to download. You can navigate away from this page and continue working while the file is downloading. Once the file has been downloaded it should appear in your device's download folder.
Export all candidates from an assessment
To export all candidates from a specific skills assessment, open the assessment, then navigate to the Select tab to reveal your applicants. In the top right corner, you will see the Export option.

Follow the prompts to select your export options. Click 'Export candidates to CSV'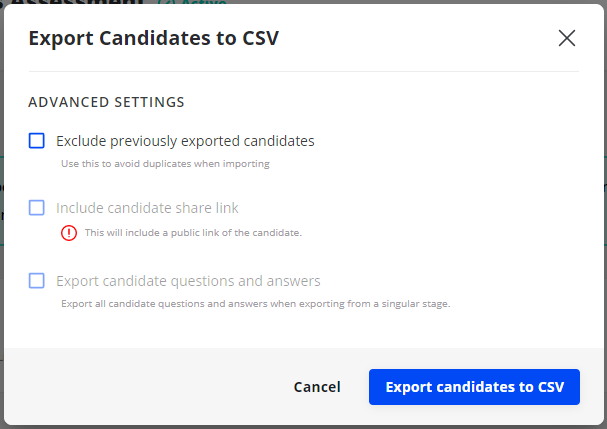 Enterprise customers will also have the option to choose to export share links and candidate answers (only text or document responses).
Your file will begin downloading. This process will work as you use Vervoe, so you can continue completing other tasks within Vervoe while the CSV downloads.
What do exported CSV files include?
The exported CSV will include the following details for each candidate if provides:
Name

Email

Phone Number

Location

Date Added

Source

Status

Assessment Name

Predicted Score

Skills Assessment Actual Score

Candidate's 'About me' profile

Experience

Uploaded files

Share links (Enterprise plan)

Candidate responses (Enterprise plan)